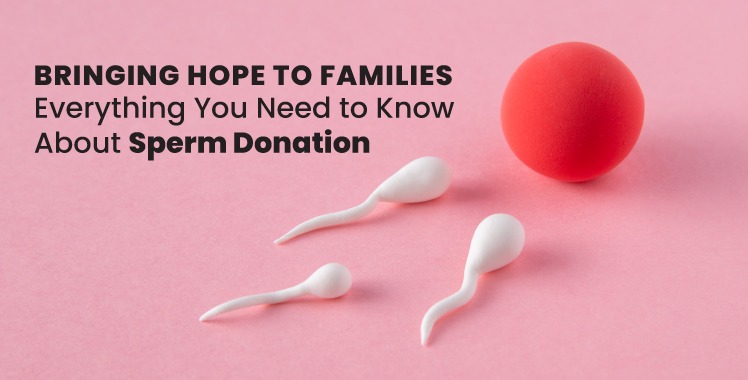 Bringing Hope to Families: Everything You Need to Know About Sperm Donation in Ahmedabad
For various reasons, you could need donor sperm to help you start a family. If you are looking for Sperm Donation Near me, Maa Women's Hospital leading IVF Hospital In Ahmedabad is the best choice for you. Our center for Sperm Donation In Ahmedabad checks for everything before we go for IVF or IUI.
Many couples struggle to conceive, and infertility plays a significant role in ending their hopes of having children. Sperm donation has, however, come to represent a glimmer of hope for many unlucky couples. It is the procedure when a guy donates his sperm so that it may be used in the recipient woman's artificial insemination procedures to bring about conception. The couple is making a huge decision, so proper planning and comprehension of the entire process are crucial.
Our Best Gynaecologist in Ahmedabad will walk you through factors you should think about while deciding on fertility therapy using donor sperm in this article.
Donation of sperm:
Sperm donation is the process by which pre-screened sperm donors give up their sperms, which are then collected and maintained for use in IUI, IVF, and other reproductive treatments. The healthy frozen donor sperms are kept in their own sperm banks, which are owned by many IVF facilities. This donor sperm may be used during IUI or IVF in cases of male infertility.
For the treatment, which adheres to stringent donor screening and sperm banking regulations, only the Best IVF Hospital In Ahmedabad and Best Gynaecologist in Ahmedabad should be chosen. Before a donor and donor sperm are chosen, they must submit to a battery of psychological, physical, and genetic examinations. Moreover, each donor sample is examined for STDs and known genetic diseases.
Couples who are unable to conceive due to insufficient sperm can now cherish parenthood through IVF or IUI using donor sperms, which has proven to be a godsend for them.
We make Sperm Donation In Ahmedabad possible through our state of the art IVF Hospital In Ahmedabad to provide you with an assured outcome for a healthy child.
Sperm Donors Are Required For:
Using healthy donated sperm is chosen for a number of reasons. The following circumstances necessitate the donation of sperm:
Male infertility causes include low or absent sperm counts in the man's sperm. The following are typical causes of infertility:
1. Azoospermia is a condition in which there are no sperm at all in the semen. Men may have either a biological type of azoospermia or an acquired variety. The acquired form might develop as a result of prior genital surgery or when the patient is receiving treatment for cancer.
2. Oligospermia is a condition when there is significantly less sperm than usual in the ejaculate. Given the tiny possibility of egg fertilization, it is one of the main reasons for unsuccessful pregnancy attempts.
3. With the condition known as asthenozoospermia, sperms lack the ability to move, which prevents them from swimming to the egg to fertilize it.
4. Inability to conceive due to Rhesus incompatibility between spouses or the presence of genetic abnormalities in the man that can be passed to the embryo.
Discovering Sperm Donor
There are two basic methods for finding donor sperm:
1. Guys who have donated their sperm anonymously aim to enable someone to start a family accessible from a recognized fertility center or IVF Hospital In Ahmedabad.
2. A known donor - A donor you know or have met through an introduction website donates sperm in the clinic.
Selecting a Centre for Sperm Donation In Ahmedabad
Donors might be identified or remain anonymous. In the event of a known donor, the patient requests that a friend or family member give them a stem cell.
Sperms from a sperm bank are used in the more popular method, which is an anonymous donor. In order to do this, you must choose the top IVF clinic in Ahmedabad with a high percentage of success for IVF, IUI, ICSI, etc.
The sperm donors go through a number of tests to make sure they are healthy, free from physical impairments and genetic or inherited diseases. At the sperm banks, details such as race, colour, lifestyle, family history, and physical characteristics are recorded.
All fertility clinics in Ahmedabad like Maa Women's Hospital gives patients advice on factors to take into account when selecting a reproductive clinic, such as efficient treatment, caring staff, transparent pricing, easy administrative procedures, and great emotional support.
Before choosing their donor, the recipient couple can consult Best Gynaecologist in Ahmedabad at Maa Women's Hospital and get any questions they may have answered.
Before choosing their donor, the recipient couple can discuss any questions they may have with their IVF professional.
Procedure for Sperm Donation:
In either of the chosen techniques, IUI or IVF, donor sperm may be used. It is only possible to use sperm samples that have already undergone testing and quarantine.
Donor sperm IUI: The sperm sample is examined and cleaned before being given to the doctor. With the aid of a catheter, donor sperms are inserted into the uterus during the female's ovulation period. The process is straightforward and painless. After two weeks, a pregnancy test is done to assess whether the surgery was successful.
IVF with donor sperm: At an IVF laboratory, the sperm sample and the obtained eggs are fused. The embryos that are produced are then placed inside the uterus for implantation. Two weeks later, a pregnancy test is done to evaluate the procedure's effectiveness.
Successful Donor Insemination Rate:
Donor insemination has a success rate of 50–60% in women under 35 who are healthy and have never experienced reproductive problems. When a woman reaches the age of 35 or if there are any gynaecological problems, low success percentages are seen.
Nowadays, many couples who have been told they are infertile choose to donate their sperm because sperm banks are so easily accessible.
Since we at Maa Women's Hospital respect each patient's right to privacy, no information about donor insemination is ever disclosed to a third party. Both the patient and the donor's identity-related information is kept private. One of the main questions that most couples have before deciding to receive treatment is about the confidentiality of personal information.
Conclusion
The best IVF Hospital in Ahmedabad, Maa Women's Hospital, advises that you thoroughly consider, research, and then choose a reputable IVF clinic that offers Sperm Donation In Ahmedabad before making this important decision.
Consult our Best Gynaecologist in Ahmedabad for comprehensive information or if you are looking for a Sperm Donation Near Me.